Image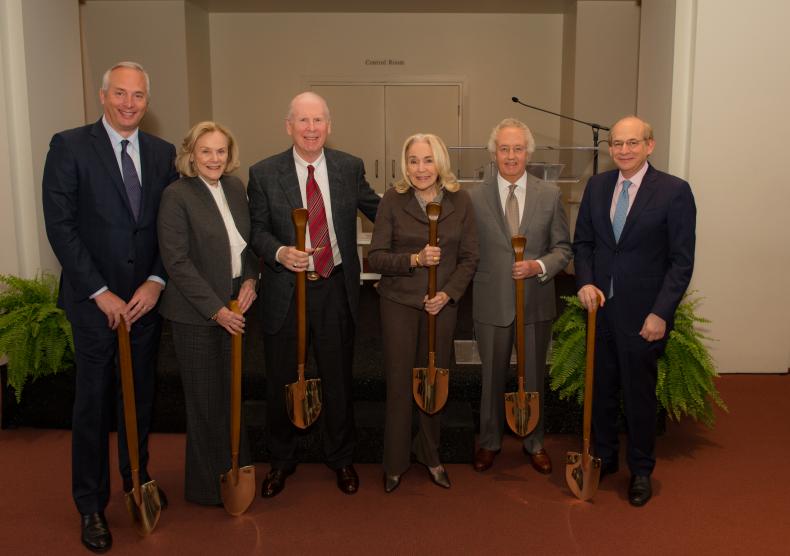 On December 7, 2017, Rice University's Shepherd School of Music held a ceremonial groundbreaking today for a new music building that together with Alice Pratt Brown Hall and adjoining plaza will form the Rice University Music and Performing Arts Center.
The 84,000-square-foot facility will house a three-tiered, 600-seat, European-style theater with an orchestra pit for 70 musicians. It will be the first theater with this particular configuration among U.S. universities and conservatories.
Designed by Allan Greenberg Architect LLC, an architectural firm with offices in New York City and Alexandria, Va., the structure will offer premium performance space for opera and chamber music, meet the growing need for rehearsal and practice space and provide a hallmark venue to attract and host high-profile speakers.
Collaborating with Allan Greenberg on the design of the building's theater and orchestra pit were theater planning and design consultants Fisher Dachs Associates and acoustic consultants Threshold Acoustics. The new theater will feature a state-of-the-art "pin-drop" acoustic experience created by Threshold Acoustics.
Construction crews formally broke ground on the facility in September 2017. The venue is slated to open in late 2020 with performances and public events.
"The new performing arts center will be an extraordinary addition to Rice and the city of Houston," said Rice President David Leebron. "This new facility will do much to encourage and bolster the university's arts education and activities and fits wonderfully into the emerging arts hub on the west side of campus."
"The Shepherd School of Music's program is internationally renowned, with an orchestral program considered among the nation's finest," said Shepherd School Dean Robert Yekovich. "The opera program at the Shepherd School — home to stellar faculty, successful alumni and current students who are increasingly successful in the profession — is poised to join the orchestral program in this top tier. "The addition of such an exceptional performance space will further enhance our ability to realize this ambition."
Yekovich said that the new facility, along with the Moody Center for the Arts, will provide spaces for Rice's growing portfolio of multidisciplinary performing arts programming as well as support some curricular offerings in the theater program in the School of Humanities.
Located near the most frequently used entrance to campus, the new music building will be near Alice Pratt Brown Hall, home of the Shepherd School; the Anderson-Clarke Center, which houses the Glasscock School of Continuing Studies; the Moody Center for the Arts; and Rice's athletic venues.
"Through Shepherd School performances, our students and faculty share their extraordinary talents with a diverse range of attendees and make premier concert and opera experiences accessible to the Houston community at no cost, for nearly all performances," Yekovich said. "All told, approximately 80,000 guests from across Houston and beyond attend the Shepherd School annually, and we only expect that number to increase as we add additional capacity for performances in this new top-of-the-line facility. The addition of this building to this area of campus will enhance an existing hub on campus that is rich with opportunities for engaging constituents 'beyond the hedges' in a wide array of arts and cultural offerings."