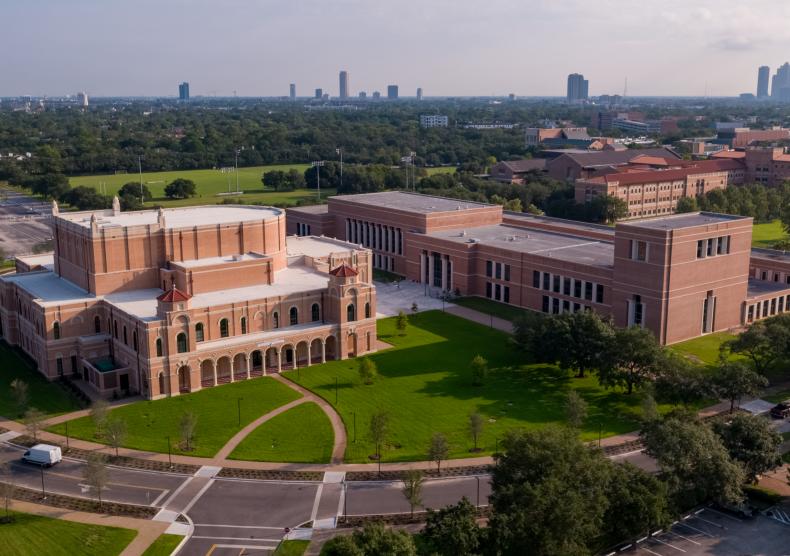 Welcome to the Shepherd School of Music! Whether you are attending your first performance or you are a returning patron, we strive to make your experience extraordinary. We are here to answer many of the questions you may have to ensure that your visit is enjoyable from the time you arrive to the final bow. Thank you for joining us and enjoy the show!

If you cannot find the answer to your question on this page, please visit our FAQ page for additional information.
Parking
We encourage visitors to use

West Lot 2

, available via Entrance 18 off of Rice Blvd., for all Shepherd School of Music events. West Lot 2 will be located on your right just past the George R. Brown Tennis Center. 

Parking is $6 in West Lot 2

for Shepherd School Symphony Orchestra, Chamber Orchestra, and Opera performances, starting one hour before the concert.  

For other Shepherd School events, the rate for West Lot 2 is $1 for every 10 minutes, with a $12 daily maximum. 

Please have a credit card ready to insert when you approach the gate. Cash is not accepted. 

Visitors are welcome to use the circular drive located directly beside Brockman Hall for Opera as a dropoff and pickup point, but parking is not permitted on this driveway.
Are Tickets Required?
With over 400 events each season, many of which are free or at minimal cost, the Shepherd School offers a variety of programming options. Some events require tickets, and others do not–view the SSM Events Calendar for more information. 
If tickets are required, a red ticket icon will appear on the SSM Events Calendar. Tickets go on sale throughout the year, and a 'Buy Tickets' link will appear when tickets are available.  

If tickets are

not

required, a ticket icon will

not

appear on the SSM Events Calendar. Seating is general admission and available on a first-come, first-served basis.
Additional information regarding tickets can be found on our FAQ page.
When Should I Arrive?
For ticketed events, we recommend arriving at least 30 minutes before the performance. We want to ensure that our patrons have ample time to park, make their way to the performance hall, and locate their seats. Please allow more time if you still need to purchase tickets or pick them up from will call.
For our general admission events, arriving 10-15 minutes before the performance is recommended.
Box Office and Will Call
If you have reserved tickets before the performance and they are being held at will call, you can claim your tickets at the box office beginning one hour before the start of the performance. For events in Alice Pratt Brown Hall, the box office is located in the Grand Foyer, directly across from Stude Concert Hall. For events in Brockman Hall for Opera, the box office is located in the Brockman Hall Grand Foyer.
What Are Post-Concert Chats
Stay in your seats after each Shepherd School Symphony Orchestra concert for a 30-minute chat with Shepherd School Dean Matthew Loden and guest artists. 
Food and Beverages
Little Kitchen provides coffee, wine, beer, cocktails, and soft drinks at mainstage opera productions, symphony orchestra, and chamber orchestra concerts. Enjoy drinks beginning one hour before the concert and during intermission, but please note that food and beverages are not permitted within the concert halls. 
Water fountains are available in both buildings near the restrooms.
Concert Etiquette
Phones
You are welcome to bring your phone with you to all of our performances. We do ask that you silence your phone and all other electronic devices before the performance begins and through the duration of the performance.
Photos and Video
We encourage visitors to take plenty of pictures, selfies, and videos before the show starts, during intermission, and after the performance has concluded. The taking of photos and videos during the performance is not permitted. Not only can it be a serious distraction to the performers, it can be very distracting to other audience members as well. 
Applause
Our performers love applause! Feel free to applaud when musicians enter and exit the stage and at the end of each musical number. Sometimes it sounds like a piece is over, but it's just a brief silence between movements. We do ask you to hold your applause during these moments. If you are ever uncertain, wait for others before you start applauding.
Dress Code
We want you to be comfortable while enjoying the performance and have no specific dress code for our events. You will see attendees in a range of clothing from casual to business attire.
Children
Children are always welcome at our performances. For full-length orchestra concerts and operas, we encourage parents to consider a child's attention span before attending an event. We want to ensure that all patrons, including you, can fully enjoy the performance. Occasionally, productions may include content or subject matter intended for more mature audiences. These events will include a disclaimer in their description.
Accessibility
All of our performance spaces in both Alice Pratt Brown Hall and Brockman Hall for Opera are fully accessible. Campus parking lots also have several accessible spaces, including West Lot 2. Visitors may also use the circular drive located directly beside Brockman Hall for Opera as a dropoff and pickup point.
Pets and Service Animals
Any patron with a service animal, as defined under the ADA, is invited to attend any event at the Shepherd School with no restriction. If the patron, or the service animal, would need special seating, or other accommodations, please contact the box office at 713-348-8000 and we will be happy to assist.
Please note that emotional support, therapy, comfort, or companion animals are not considered service animals under the ADA.