Common Practice 21C: Classical, Contemporary, and Cross-Cultural Music (abbreviated as, "21C") is a performing arts festival in Houston, Texas. It was founded in 2015 by Taiwanese-American composer Shih-Hui Chen. The three-day festival fosters intercultural exchange through a series of lectures, workshops, and performances that demonstrate traditional and modern performance. An array of musicians from different countries and practices meet to devise a global perspective of music that looks forward into the Twenty-first Century. Works and ideas presented at the festival embrace fusion of traditional Asian musical cultures with western art practices. Previous festivals have been centered on Chinese, Taiwanese, Korean, and Turkish cultures. In 2017, a CD titled "Crossing" was released by the Albany Records as a result of the festival.

The festival is supported by the Shepherd School of Music, Rice University, and Asia Society Texas Center.

The focus for this year's Cross Cultural Asian Music course will be on Taiwan, especially on its Indigenous cultures and music. We hope to bring an awareness of Asian culture to campus and to help cultivate diversity in learning and discovery. This course is also in line with the mission of MUSE (Musicians United for Social Equality) in incorporating non-Western techniques and aesthetics in the curriculum.
MUSI 378/ASIA 378
Classical, Contemporary, and Cross-Cultural Asian Music: Taiwan Focus

Dr. Shih-Hui Chen
The Shepherd School of Music and Department of Transnational Asian Studies
Concert at the Houston Public Library/Julia Ideson Library 
Saturday, February 4, 2023 at 2:00 p.m.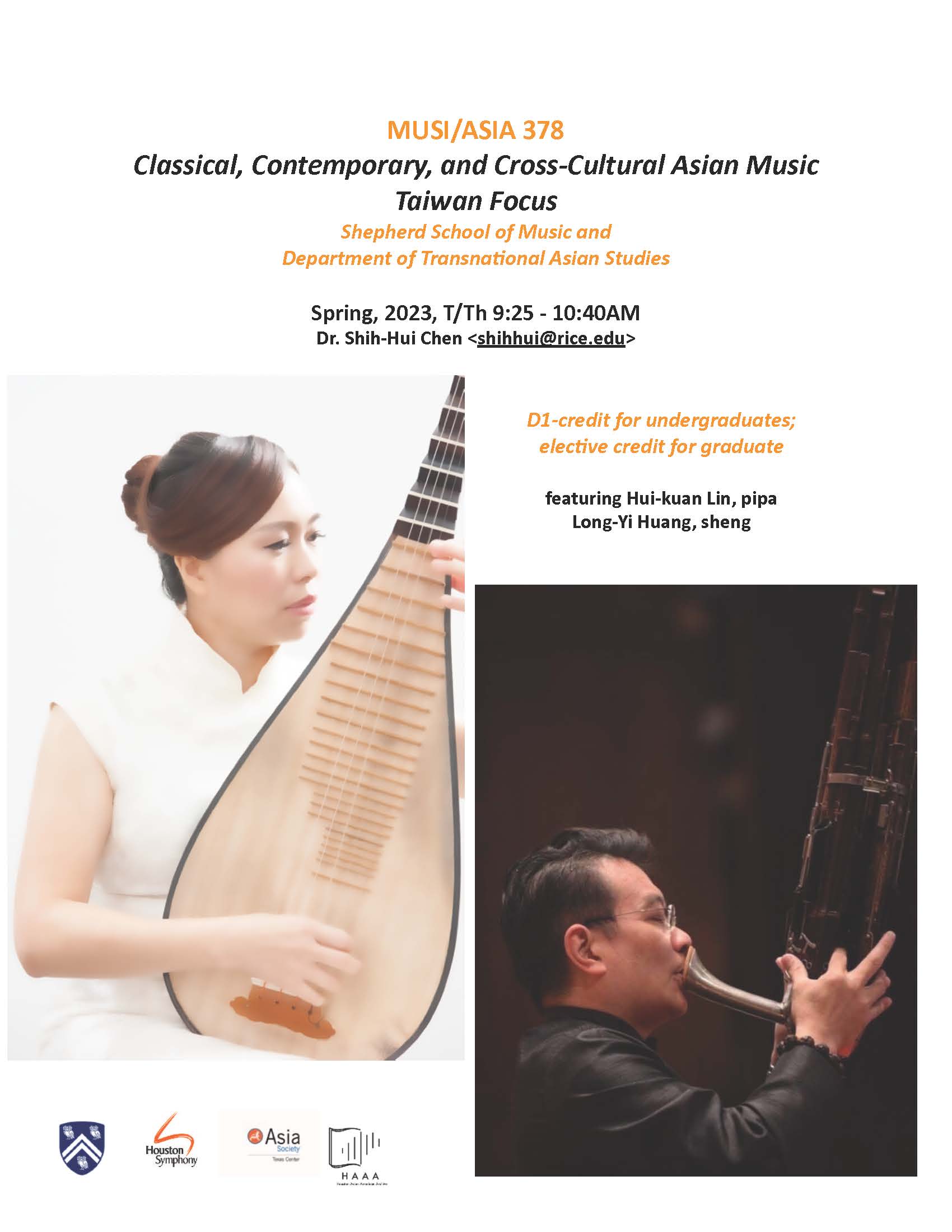 Concert at the Asia Society
Tuesday, February 7, 2023