Image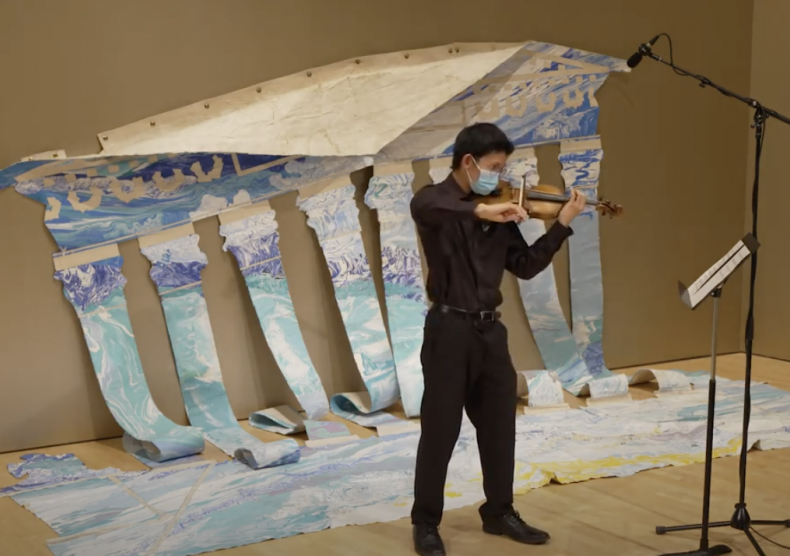 Now at the Moody Center for the Arts, New Art/ New Music began as a collaborative program between the Shepherd School of Music and the Rice Gallery. Since its inception in the fall of 2010, New Art/New Music offered music students an opportunity to design programs that connect with installations in the gallery. Shepherd students perform compositions written specifically for these events by our student composers. New Art/ New Music has presented many premiers of student works. The idea was conceived by a Shepherd School student performance major who wanted to pair new music with new art. It started as a student semester class project and evolved into a reality the following year.
During the performances, Shepherd School students speak about the music and explain how it relates to the art. Programs ran about one hour and take place on Saturday afternoons each semester.  New Art/ New Music is an interdisciplinary program that offers our Shepherd students the real world artistic experience in organization, production, leadership and advocacy. It is thrilling for them to be able to create and play music of their time in an art gallery. We are so pleased to be able to continue this tradition at the Moody Center for the Arts!
Upcoming performance 
Wednesday, November 18, 2020
12:00 pm
The Moody's YouTube Channel

Responding to the Moody's fall exhibition States of Mind: Art and American Democracy, Shepherd School of Music composers will perform new works in the gallery. This virtual concert will be available on the Moody's YouTube page.

 
Thursday, November 19, 2020
6:00 pm, A Zoom Event
"Let Your Voice be Heard": A Virtual, World-Wide, Interactive Concert

In response to the Moody's fall exhibition, States of Mind: Art and American Democracy, Shepherd School of Music doctoral student composer Badie Khaleghian has composed Let Your Voice Be Heard — a work written for six Shepherd School woodwind students performing remotely, and designed to be played virtually on Zoom with audience participation.
Specifically inspired by Aram Han Sifuentes's site-specific Moody commission, Official Unofficial Voting Station: Voting for All Who Legally Can't for the 2020 Presidential Election (2020), the composition seeks to initiate dialogue on sensitive social and political subjects. Throughout the piece, a choice of abstract images will be shown to the audience, who will have the opportunity to make their voice heard by voting for their preferences. The performers will react in real-time to the polls.
This piece gives a unique opportunity to the audience to participate in the music-making process by voting and it can be rendered in 1024 different variations.

Performers:
Flute: Aram Mun and Dominique Kim
Clarinet: Taylor Isberg
Oboe: Remy Libbrecht and Lauren Keating
Bassoon: Nic Richard

Register to receive Zoom access here. 
 
Past performances
Moon Shot
October 19, 2019
Inspired by Moody's fall exhibition Moon Shot 

Sideways to the Sun
April 13, 2019
Responding to the immersive installation Sideways to the Sun by Natasha Bowdoin, Shepherd School of Music composers premiered new works performed in the space.

The Demon in the Diagram
October 13, 2018
Inspired by the Moody's installation The Demon in the Diagram and performed by Shepherd School of Music students in the intimate setting of the Brown Foundation and Central Galleries where the exhibition is installed.

Island Universe
March 31, 2018
Inspired by Island Universe by Josiah McElheny, a monumental installation of five hanging sculptures inspired by the multiverse scenario of eternal inflation, an extension of the big bang theory.

Intersections
November 21, 2015
Inspired by Intersections by Anila Quayyum Agha

SHOTGUN
February 21, 2015
Inspired by Shotgun by Atelier Bow-Wow, in collaboration with Jesús Vassallo and students from the Rice School of Architecture

Music for Peace
October 18, 2014
Inspired by yamatane by Yusuke Asai

Crossing the Farther Shore 
April 19, 2014
Inspired by Crossing the Farther Shore by Dinh Q. Lê

Marshland 
November 9, 2013
Inspired by MARSHLAND by Gaia

Unwoven Light
April 20, 2013
Inspired by Unwoven Light by Soo Sunny Park