Image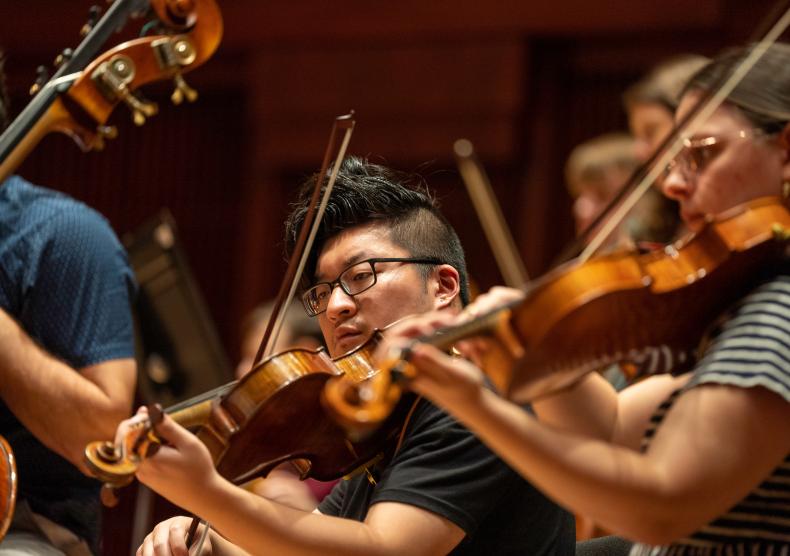 The Graduate application is now open for Fall 2024.

All of our graduate programs offer talented musicians the opportunity for advanced training. Performance opportunities for instrumentalists include the Shepherd School Symphony and Chamber Orchestras, the Chamber Players, the Contemporary Music Ensemble and various student-led initiatives. Vocalists star in opera productions, study in scene work intensives, and receive advanced training in acting, movement, language, and diction.
Master of Music
The Master of Music, a two-year degree, consists of intensive work with world-class artist-teachers, unrivaled performance opportunities, and rich academic resources for applied training. This degree also requires completion of four Music Career and Skills Enhancement credit hours. The master's degree curriculum works to ensure that the artistry and intelligence of our students will have a lasting impact on the classical music world.
Artist Diploma
The Artist Diploma in Music, a two-year post-master's degree program, is intended for musicians who possess both extraordinary musical talent and the potential to flourish in today's highly competitive musical world. Specialized courses prepare musicians aiming towards a career focused on performance at the highest levels. 
A unique feature of the Artist Diploma is the master teacher committee. Each student receives instruction not only from a principal teacher, but also from two or three additional faculty members who present the student with feedback from multiple professional perspectives. 
Doctoral of Musical Arts
The Doctor of Musical Arts degree is designed for musicians who desire careers that combine performance or composition with an academic appointment. Our extensive application and audition process establishes cohorts of accomplished, ambitious individuals. 
The degree includes studio teaching, a wide array of performance opportunities and engaging, challenging academic courses. Simultaneously, our doctoral students receive teacher training under the direction of dedicated and imaginative faculty mentors.