Image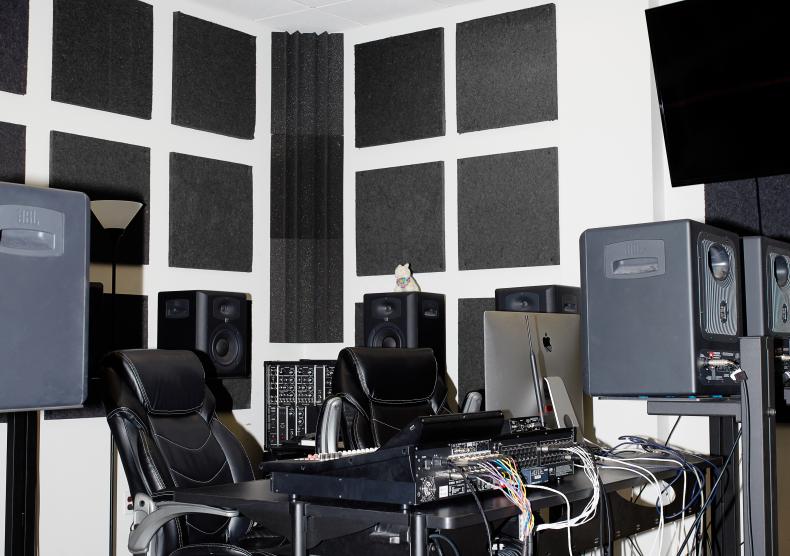 Rice Electroacoustic Music Labs (REMLABS) offers courses in electronic/computer music and music technology at the Shepherd School of Music. In addition to Room 1709 which houses three, stereo workstations for students enrolled in REMLABS courses, the facility also incorporates the Wortham Theatre which will serve as the main teaching space for courses in Fall 2020 and where a 7.2 audio system is currently installed.
REMLABS provides technical support to Shepherd School faculty, students, and ensembles as well as producing dozens of electronic music events each year.  These concerts include sound and light events created for the James Turrell Skyspace, multimedia events presented in the Moody Arts Center, bi-annual student electronic music concerts, and the Electric Syzygy Concert Series.  In addition to on-campus events, REMLABS frequently collaborates with arts organizations in the Houston community.
Faculty
Kurt Stallmann
,

Professor of Composition and Theory, Director of the Rice Electroacoustic Music Labs (REMLABS)

1602 Alice Pratt Brown Hall
Arthur Gottschalk
,

Professor of Composition and Theory

1606 Alice Pratt Brown Hall
Chapman Welch
,

Lecturer in Music and Electroacoustic Music Specialist

1709 Alice Pratt Brown Hall
Previous Collaborations
Composers
Hans Tutschku (Harvard University), George Lewis (Columbia University), Michael Pisaro (California School for the Arts), David Wessel (CNMAT), Russell Pinkston (University of Texas at Austin), Jon Christopher Nelson (University of North Texas), Andrew May (University of North Texas), Matthew Burtner (University of Virginia), Michael Rothkopf (North Carolina School for the Arts), Michael Schumacher, Kevin Patton (George Washington University), Pauline Oliveros, Chris Chafe (CCRMA), Ricardo Arias (Universidad de los Andes), Barton and Priscilla McLean, Jacob Sudol (Florida International University), Yu-Cheng Tseng (Taiwan), Camille Troillard, and Mario Davidovsky (who composed his Synchronisms No. 12 for Clarinet and Electronics while in residence at REMLABS).
Performers
Aleck Karis (University of California at San Diego), Charles Curtis (University of California at San Diego), Steve Duke, Michael McGrath, Alan Blustein, Todd Reynolds, Elizabeth McNutt (University of North Texas), Patti Cudd, Peter Brotzmann and Keiji Haino, Stefano Scodanibbio, California EAR Unit, Zeitgeist Ensemble, Miranda Cuckson, Haerim Liz Lee
Institutions
Laboratorio Nacional De Música Electroacústica of Cuba (curated by Professor Arthur Gottschalk), Shanghai Conservatory of Music (China), Little Giant Chinese Chamber Orchestra (Taiwan), Texas Computer Musicians Network, Nameless Sound (Houston), Da Camera (Houston), American Festival for the Arts (Houston), Musiqa (Houston), Contemporary Arts Museum (Houston), Museum of Fine Arts (Houston), Houston Composers Salon (Houston), Center for Energy and Environmental Research in the Human Sciences (Rice University).

REMLABS is also a member of the LaTex consortium, a collection of electronic music studios at institutions in Lousiana and Texas including: Louisiana State University, Tulane University, University of North Texas, and the University of Texas at Austin.

The electronic music studios at Rice were established in 1977 by Arthur Gottschalk. The analog electronic instruments initially available included Wavemaker, PAIA, Moog, and Arp analog synthesis modules. In addition, many tape machines were used for manipulation of source material.  During the first ten years, the Rice studios mounted huge multimedia events annually, including Houston's first laser light sculptures. Each concert featured eminent guest composers (Mario Davidovsky, Sylvia Pengilly, Joan LaBarbara, Thomas Clark, and others) and guest ensembles ranging from large dance companies to cutting edge rock bands.
 
Courses taught in REMLABS include
MUSI 316 | FILM 323  Experimental Sound and Video
MUSI 403 Basic Electronic Music
MUSI 404 Electronic Music Composition
MUSI 507 Technology for Musicians
MUSI 605 Advanced Electronic & Computer Music Systems
MUSI 606 Advanced Computer Sound Synthesis
The following courses include REMLABS segments
MUSI 733 Career Skills (Digital Recording/Editing)
MUSI 762 Artist Diploma Seminar (Technology and Performance)