Image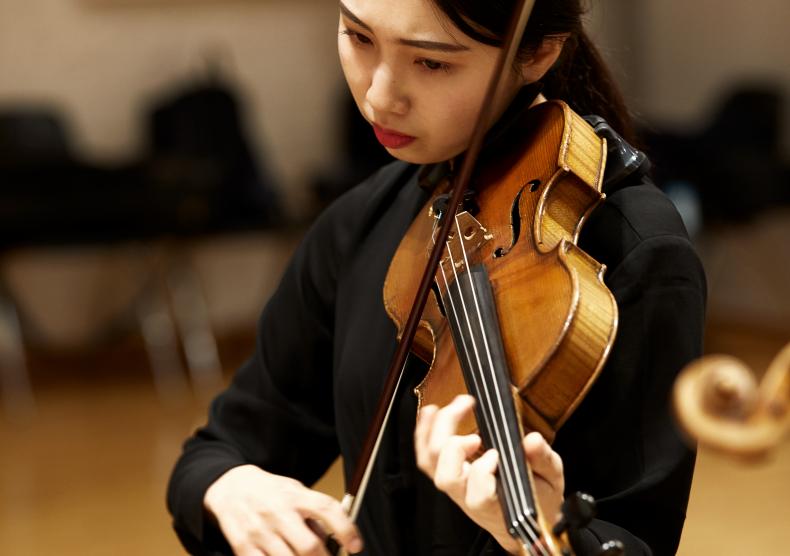 The string department of the Shepherd School of Music features a resident faculty of internationally-known performers who are also recognized as master teachers. All string students have regular lessons with their chosen studio professor as well as intense participation in both orchestral and chamber music ensembles. Professional staff accompanists are provided for lessons and recitals and each string area offers orchestral studies at the graduate level to complement work toward professional auditions.
 
Academic studies leading to the Bachelors, Masters, Artist Diploma, and Doctor of Musical Arts degrees are taught by a stellar faculty in the areas of music theory, composition, music history, and musicology as well as an unparalleled liberal arts curriculum offered by Rice University. Special courses such as pedagogy, the business of music, and performance preparation underscore the goal of preparing our students for the many facets of activities in the professional musical world.
 
Shepherd School alumni perform in symphonic and chamber orchestras as well as period instrument ensembles throughout the world. Our string graduates are also found in professional chamber music ensembles and teaching in colleges and universities. Others are successful teaching in public, private, and preparatory schools and still others find success in the entertainment fields. Joy in the study and performance of music is pervasive at the Shepherd School and both faculty and students are energized through these endeavors.
Violin Faculty
Paul Kantor
,

Sallie Shepherd Perkins Professor of Violin

1121 Alice Pratt Brown Hall
Cho-Liang Lin
,

Benjamin Armistead Shepherd Distinguished Professor

2201 Alice Pratt Brown Hall
Kathleen Winkler
,

Dorothy Richard Starling Chair in Classical Violin

1505 Alice Pratt Brown Hall
Viola Faculty
James Dunham
,

Professor of Viola and Co-Chair of Strings

219 Brockman Hall for Opera
Ivo-Jan van der Werff
,

Professor of Viola

226 Brockman Hall for Opera
Cello Faculty
Norman Fischer
,

Herbert S. Autrey Professor of Cello

220 Brockman Hall for Opera
Desmond Hoebig
,

Professor of Cello

2271 Alice Pratt Brown Hall
Brinton Averil Smith
,

Associate Professor of Cello

1114 Alice Pratt Brown Hall
Double Bass Faculty
Paul Ellison
,

Lynette S. Autrey Professor of Double Bass and Co-Chair of Strings

1301 Alice Pratt Brown Hall
Timothy Pitts
,

Professor of Double Bass

1501 Alice Pratt Brown Hall
Orchestral & Chamber Repertoire Faculty
Joan DerHovsepian
,

Artist Teacher of Viola Instructor Orchestra Repertoire

2234 Alice Pratt Brown Hall
Christopher French
,

Artist Teacher of Cello Instructor Orchestra Repertoire

2234 Alice Pratt Brown Hall
Yoonshin Song
,

Artist Teacher of Violin