Image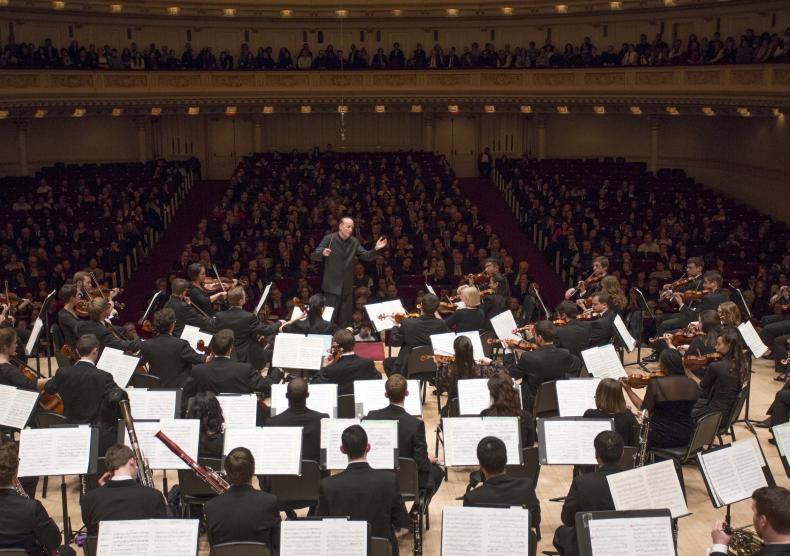 The orchestral program is comprised of a Symphony Orchestra of one hundred-plus music students and a Chamber Orchestra of some fifty music students. Both orchestras are of equal caliber, differentiated only by the repertoire they perform.
Orchestra members rehearse at least five and one-half hours a week, and they also attend classes in orchestral excerpts and orchestra repertoire classes for brass, percussion, woodwind, and string sections.
Sectionals are regularly given by our experienced orchestral faculty.
Larry Rachleff has been Music Director of the orchestral program since the fall of 1991, and under his leadership the Orchestras have reached new artistic levels, performing major works from the standard orchestral repertoire as well as giving several premieres of important new works and performing with the Shepherd School Opera.
"The Shepherd School of Music is an internationally known magnet for young players wanting careers as professional orchestral musicians. The excellent faculty - but above all conductor Larry Rachleff - consistently produces a top-quality ensemble many a city could want as its resident orchestra." By Charles Ward. Houston Chronicle. 12, Oct. 2012. Web.
In a review of their Centennial performance the reviewer "caught [himself] engrossed in the music and completely forgetting that the group was a university orchestra. The students powered and finessed their way through any and all trouble spots."
From its inception in 1975, The Shepherd School of Music at Rice University has emphasized orchestral training as a central element in its performing curriculum. Each of the two Orchestras typically performs three concerts a semester. Works performed in recent seasons include Beethoven Symphony No. 3 "Eroica", Brahms Symphony No. 1, Dvořák Symphony No. 6, Haydn Symphony No. 103 "Drum Roll", Lutosławski Concert for orchestra, Mahler Symphony No. 6, Mendelssohn Symphony No. 4, Mozart Symphony No. 38 "Prague", Nielsen Symphony No. 4, Schubert Symphony No. 8 "Unfinished", Shostakovich Symphony No. 8, Strauss Alpine Symphony, Strauss Der Rosenkavalier Suite, Stravinsky Le Sacre du printemps (The Rite of Spring), Stravinsky Firebird Suite (1919).  
The Shepherd School Symphony Orchestra recently completed two East Coast tours. The 2014 tour culminated in debut performances at Baltimore's Meyerhoff Symphony Hall and New York's Carnegie Hall featuring Professor of Violin Cho-Liang Lin and Professor of Piano Jon Kimura Parker as soloists. In October 2016, the orchestra returned to the New York City venue's Stern Auditorium for a program of modern and contemporary music showcasing a world preimere of In Terra by Professor of Composition and Theory Pierre Jalbert. The orchestra also performed the same program at The Richard B. Fisher Center on Bard College's Hudson Valley campus. 
The celebration of the Shepherd School's 40th anniversary, included the Shepherd School Symphony Orchestra's 40th Anniversary Commission Project wherein each of our seven faculty composers created new works for our symphony or chamber orchestras.
Conductors
Larry Rachleff
,

Walter Kris Hubert Professor of Orchestral Conducting

1202 Alice Pratt Brown Hall
Jerry Hou
,

Artist Teacher of Orchestras and Ensembles

1129 Alice Pratt Brown Hall
Administrative Staff
Kaaren Fleisher
,

Orchestra Manager and Librarian

1203 Alice Pratt Brown Hall